Sounds like bitcoin all over again
NFTs have been on the horizon for a while – but recently, influencers like Addison Rae and Logan Paul have been posting about their latest investment and it's made me realise I really have no idea what the hell an NFT even is.
YouTuber Logan Paul has shown a particular interest in the world of NFTs throughout 2021, and revealed that he bought 139 NFTs from 16 collections for a total of $2.645 million.
Now, Addison Rae has bought into the NFT game too – this week posting on her Instagram story that she's now a Lil Heroes partner, buying into their NFT project.
The collection, which features 7,777 unique pieces, quickly became the most popular NFT on OpenSea when minting started, and even has the support of other celebrities like J Balvin.
In her story, Addison said: "Never thought I'd get involved with NFTs, but yolo! So honored to join the Lil Heroes community."
TikTok even launched their very own collection of "Top Moments", where the creators collaborated with prominent NFT artists on one-of-one and limited edition NFTs.
If, like me, you're absolutely clueless on the subject of what actually is an NFT – then read on and learn.
So – what does it stand for?
NFT stands for a non-fungible token – not that it makes anything clearer. Basically, "non-fungible" means that it's unique and can't be replaced with something else. It's like a one-of-a-kind trading card – if you traded it for a different card, you'd have something completely different.
How do NFT's even work?
Most NFTs are part of the Ethereum blockchain. A blockchain is a system that basically keeps track of who owns what and Ethereum (ETH) is a cryptocurrency, like bitcoin, but its blockchain also supports these NFTs – which store extra information that makes them work differently from an ETH coin.
NFTs can be purchased through cryptocurrency marketplaces which digital artists use to 'mint' their work (aka, create and embed unique code into a blockchain that cannot be copied). Once minted, these works are then published into tokens, and from there, can be purchased. Unlike buying a physical painting, when you buy an NFT, you obtain the rights (or code) to a digital asset – not the actual asset.
Importantly, there's a record of ownership. And because these tokens exist on a decentralised database that record is public.
What actually IS an NFT?
So in theory, an NFT can be anything digital that is unique and needs proof of ownership  – from digital artwork, domain names, concert tickets and more. The founder of Twitter even sold his first ever tweet as an NFT, for $2.9 million.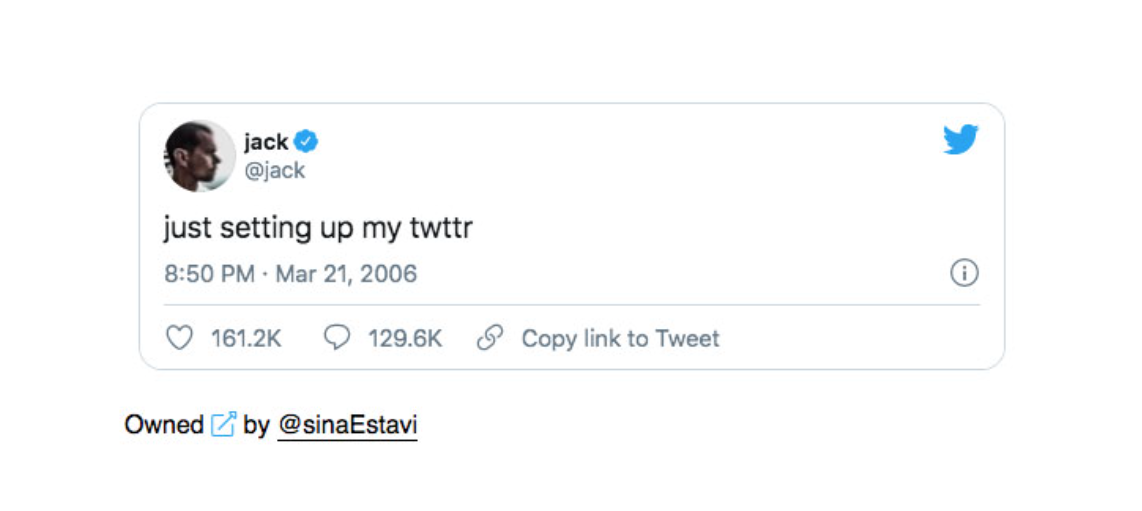 Is it going to last? What's in it for the future?
The Tab spoke to 25-year-old Gideon Moss, who works in finance but has recently become passionate about NFTs and their potential for the future.
"Explaining what NFTs are is like trying to explain the internet to someone before it even existed. It's not necessarily about how it works – more about what it can do", he said.
He told The Tab: "Right now, everyone's talking about them. A lot of people are like 'lets create an NFT and put it up for sale' and then not do much long-term. There's a lot of hype and people are just buying them for that. There's no value long-term but its a way to earn money short term.
"In the future, I think NFTs will become more of a ticket or token whereas right now it's mainly holding one thing."
Gideon used the example of Adidas' latest campaign "Into the Metaverse" as a sample for the future. They recently sold 30,000 NFT's for a total of around $22 million. Buying an NFT provides owners access to special physical goods, like a hoodie or tracksuit, and upcoming digital experiences. So buyers of the NFT will get actual benefits that you wouldn't otherwise.
Gideon said: "right now, it's like having a blue tick on Twitter – it's a flex. But we're not as digital as we will be in five years' time and these things are going to be way more valuable."
Related stories recommended by this writer:
• We spoke to the UCL student who made £30,000 through cryptocurrency investments
• 'I made $1.2m last year': We spoke to the people making bank on TikTok
• Dogecoin: What is it, how do I buy it and can Dogecoin make me rich?